By David Weafer
Endless opportunities await graduating high school students, but possibility can be simultaneously exciting and overwhelming. Faced with career path choices, a student's greatest tool to navigate their options is experience. This summer, 12 high school students from Boston Public Schools added a new experience to their toolboxes when they took an internship with the Forsyth Student Scholars program.
The scholars experienced many firsts at Forsyth. Some worked their first job, some stepped foot inside a lab for the first time, some had never taken the train to work by themselves before. Forsyth welcomed them at the level of experience with which they came. After living in a lab coat for two months, they had a lot to say about learning how to be scientists.
Picturing life in a lab coat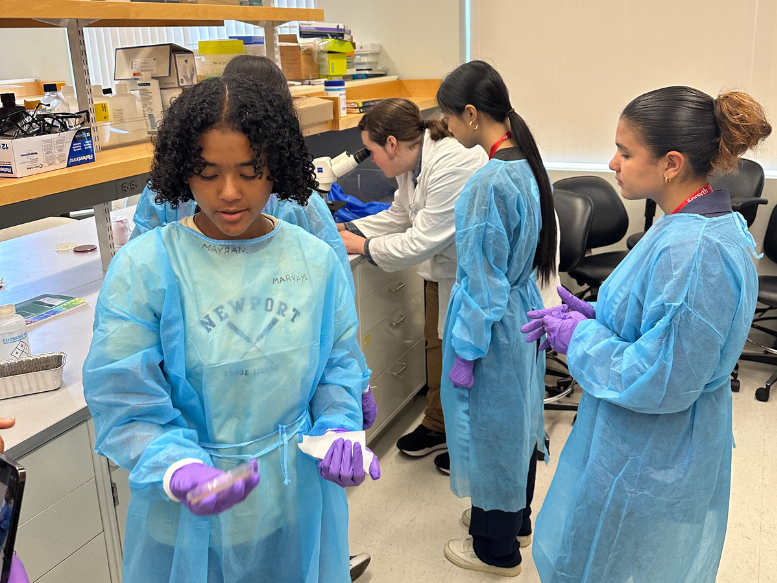 For many, the daily lab work at Forsyth began to add some clarity to the haziness the students previously had about possible future careers.
Oral health began to stand out amidst many other fields for Maryam Barry. Maryam remarked, "Honestly, I think this program piqued my interest in becoming a dentist."
Simran Tamang felt pulled toward the medical field. Oral health wasn't a specialty she considered before coming to Forsyth. Working with world renowned oral health scientists changed that. Simran elaborated, "I knew I wanted to work in the medical field in the future, but this experience introduced me to the dental medicine field which I had never explored before. I am considering going into dental research in the future thanks to this experience."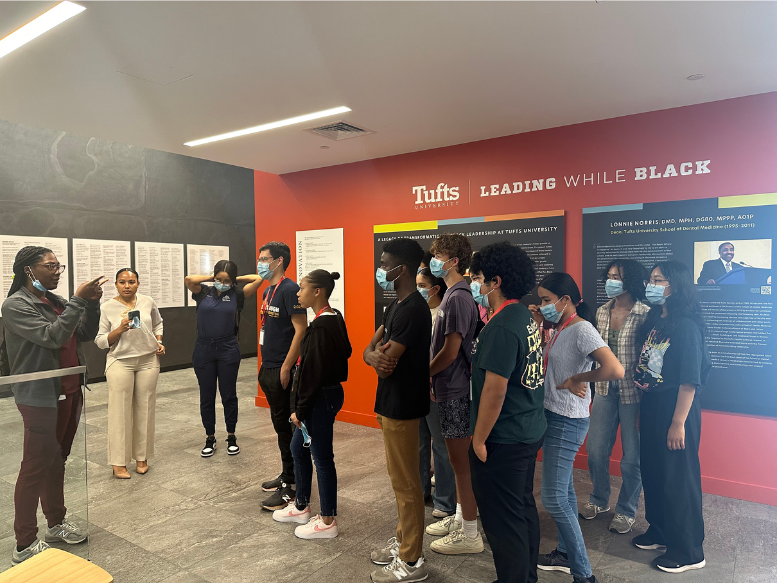 During the FSS program students are not exclusively exposed to oral health research careers. The Director of Education and FSS Program Director, Dr. Megan Pugach-Gordon, intentionally introduced them to professionals in adjacent fields such as public health, clinical care, and academia. Many of these possibilities caught Russell Monteiro's interest. Russell considered, "After this summer at the Forsyth Institute, I have decided that research is definitely a consideration for my future. But I was also exposed to many other career paths that I could see myself pursuing in the future."
We are confident these scholars will be successful in whatever path they take after witnessing their dedication and growth at Forsyth.
Gaining new skills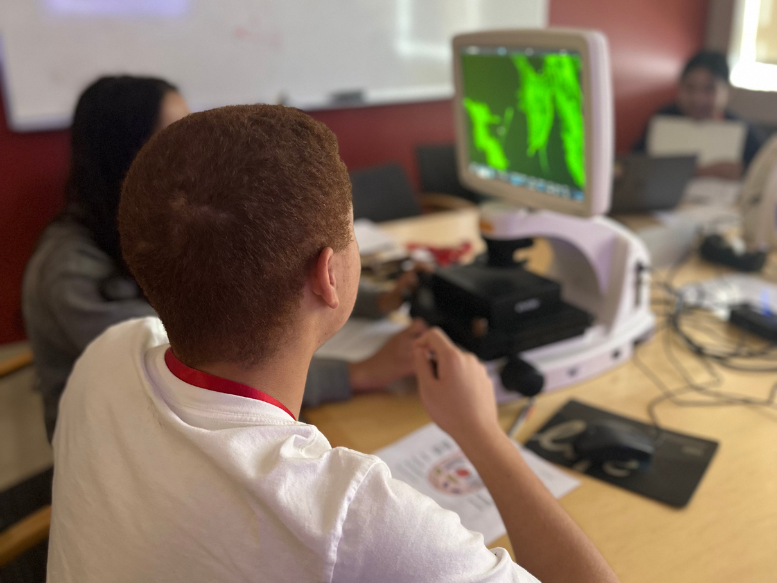 Envisioning a bright future and gaining skills to reach that future go hand in hand at Forsyth. Each student walked away with new scientific prowess and personal discovery. Wesley Ekes recognized he gained many skills in the lab. Welsey acknowledged, "By far, the research experience was the most impactful part of my time at Forsyth. From exploring fascinating concepts within materials science to conducting various experiments in vitro, I've taken away extremely valuable skills that I will certainly utilize within my career path."
Scholars learned both the methodology and the science that goes into oral health research. Jessica Li found the scientific understanding she gained to be the most impactful part of her experience. Jessica emphasized, "For me, the many lectures provided by the Forsyth faculty were the most impactful part of the internship. I really appreciated how the staff were able to go very much in depth, but also make the complex topics easy to understand."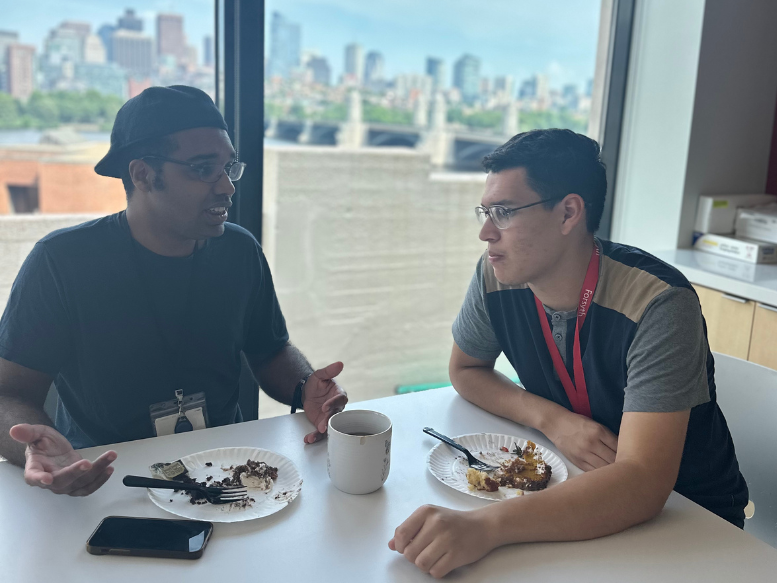 Beyond research skills and scientific understanding, FSS provides an environment where scholars can learn about themselves through independent work. David Huezo opened the door to self-discovery while working at Forsyth. David mused, "This program helped me understand and find my own potential. The best part is that I was able to re-evaluate my life and ask for help when I needed it. Thank you for what you have given me."
Learning from the best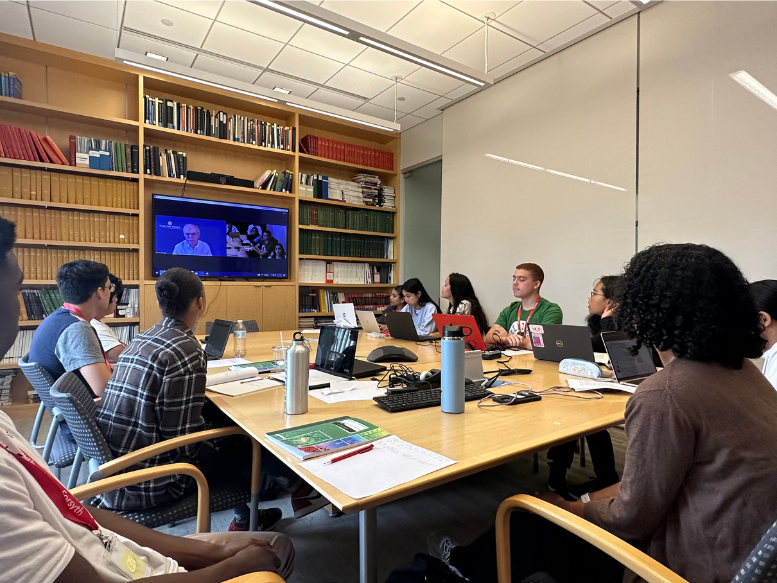 Ultimately, great mentors played a central role in making this summer so impactful for the scholars. Rabecca Verreault cherished the positive demeanor her mentor maintained throughout the summer. Rabecca shared, "My amazing mentor was Dr. Fabiola Miranda-Sanchez. She completed my experience at Forsyth, her innate ability to share her passion and light up a room transferred into her mentorship and made the experience truly one of a kind."
Mentors serve as a critical resource for the scholars to come back to again and again as they navigate complex topics. Maya Koreth valued the support she received from her mentors whenever she had questions. Maya commented, "My mentors were Dr. Eduardo Oliveira and Dr. Rafaela Ferrer de Oliveira, from whom I learned so much about my assigned topic. They consistently helped me whenever I had questions, and we were able to have fun in the lab while also working!"
Dr. Megan Pugach-Gordon stays busy running the FSS program but always makes time for the students. Randy Delgado appreciated the teaching methods Dr. Pugach-Gordon used to help him work through his project. Randy expressed, "As we worked in Dr. Megan Pugach's lab, I learned the most from her with physical demonstrations and with sheets she used to hand to my group. She taught me a lot in the lab and helped me and our group get through obstacles, and I greatly appreciate all her help."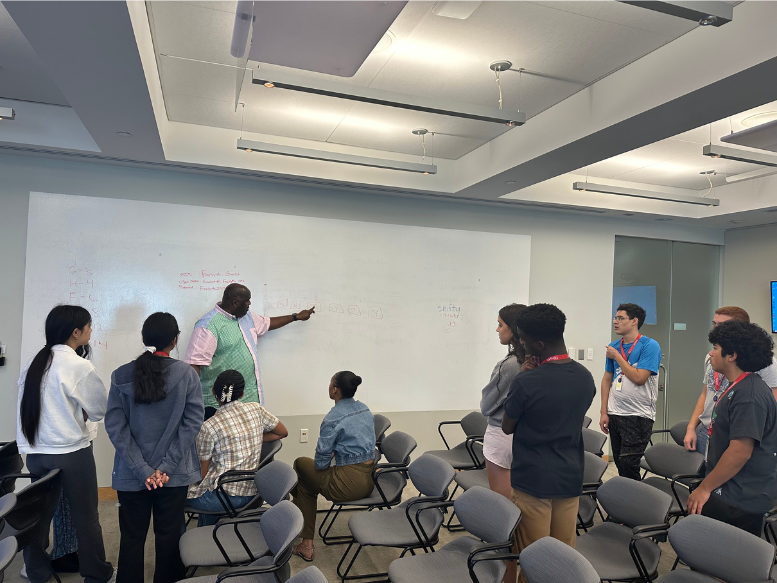 The feeling of admiration and respect went both ways. Dr. Pugach-Gordon had many positive thoughts of her own to share about the scholars. Dr. Pugach-Gordon summarized, "The 2023 Forsyth Student Scholars cohort was a memorably hard-working and inquisitive group. They were introspective and extremely kind to one another despite having such diverse backgrounds, and they thrived when interacting during group activities. As all this summers' expert speakers and instructors exclaimed to me after meeting this group, they will be remembered as the cohort that asked the 'most high-level, mature and impressive' questions about science, college and career paths."
"I am so proud of their accomplishments during the summer: they learned all the science and lab skills to complete their group research projects in addition to college readiness and life skills, and they grew as people and friends. Their remarkable growth in 8 short weeks was showcased in their incredible final presentations on the last day of the program. We at Forsyth look forward to supporting the 2023 FSS cohort as part of our Forsyth Alumni Community as they continue their career journeys."   
Thank you to Boston Private Industry Council and Massachusetts Life Sciences Center for sponsoring FSS 2023. This summer will be one to remember for Forsyth staff and student scholars alike. Here are some of the scholars' favorite memories. 
A summer to remember
Each of the scholars shared their favorite memories from the summer.
Maryam Barry
Randolph High School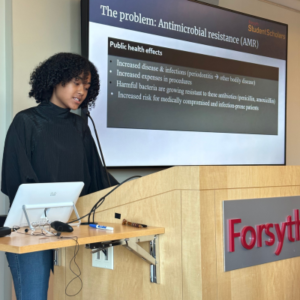 Traveling to Tufts Dental School and visiting BU Stars program and speaking with med students. 
Randy Delgado
Watertown High School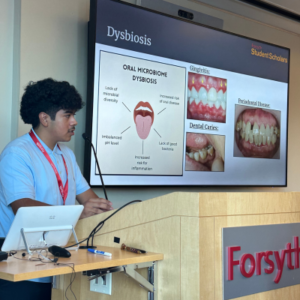 My favorite memory from this summer was going to the Boston University medical campus, as we got to talk to other undergrad interns while going into different labs led by our group leader assigned to us. Their experiences and stories were eye opening, and made me think what I would want to do in the future.
Wesley Ekes
Boston Collegiate Charter School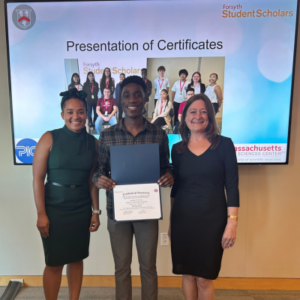 Travelling down to the East End House as a volunteer to assist the elderly pack whole-foods was an experience that I'll always cherish.
David Huezo
Everett High School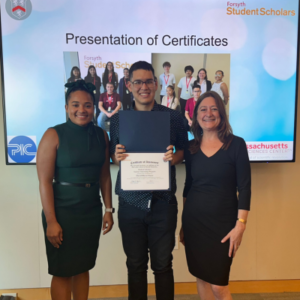 My favorite memory was that I felt that I belonged and felt needed to my community. I loved everything about this program including meeting new people. Everything about Forsyth was very positive and flexible. I had a wonderful experience and loved being responsible because this was my first real job and I wanted to make a good impression. If I had the chance, I would definitely recommend it to anyone interested in dentistry, research, or STEM in general.
Maya Koreth
Boston Latin School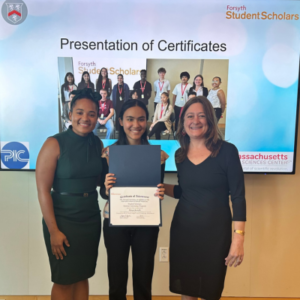 I loved our Friday outings as a group – we got to visit many interesting places such as the ICA, a chocolate factory, and even took a boat trip! I feel like those experiences helped us bond as a group, and I got to know everyone outside the lab environment as well.
Jessica Li
Boston Latin School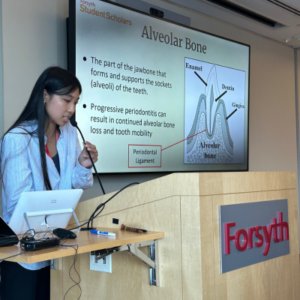 My favorite memories from the summer were the many hours the twelve of us spent in the 4th or 5th floor conference rooms, where we all got to know each other well, working and laughing together.
Russell Monteiro
Brockton Highschool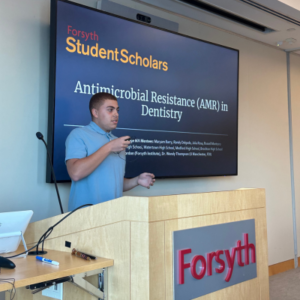 My favorite memory from this summer was our experience at the MIT art museum. This was the first time the group as whole got together and we had a great time taking in the art and technology around us!
Simran Tamang
Everett High School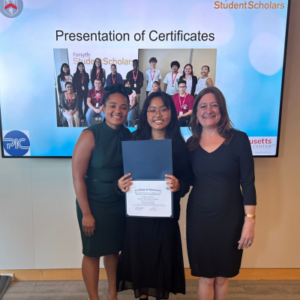 My favorite memory from the summer was working in the lab with the international dental students and attending tea parties where I met a lot of great employees at Forsyth.
Rabecca Verreault
Boston Latin School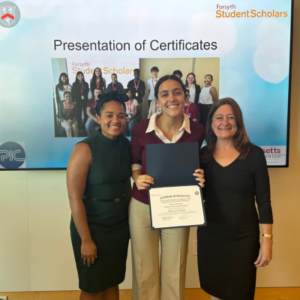 My favorite memory was playing scrabble with Dean David Taylor. Not only did we have a great time, but he shared wise and deeply sincere words that touched me, and ones that I will hold onto for the future to come.